Help Students Manage Online Classes With Workona
You've probably noticed 2 big problems with online classes:
It takes too much time to find your work. Docs and links are scattered everywhere from Google Drive to Dropbox. Otherwise, they're buried in a learning management system. Log in…find the class…find the section…find the module…find the specific assignment…repeat multiple times a day…
It's hard to focus because you end up with too many open tabs. Of course, this happened before remote classes, but it's gotten worse now that more schoolwork is delivered via the browser.
Workona can solve both problems.
---
What's Workona?
Workona helps students organize open tabs based on the project or class they belong to.
It also helps students save and organize online classwork: assignments, drafts, research, quizzes, flashcards, notes, presentations — plus, other important links you want to come back to, like financial aid information and class registration. We call these saved items resources.
How it helps you stay organized and focused
Each workspace has everything you need for a class. The rest of your work — including tabs that could distract you — are hidden until you switch to another workspace.
---
How to sign up for Workona
Time to complete: 3 minutes
Sign up with the email address you use for school. It should be one you can access, since you'll need to confirm your email address.
Add the browser extension when prompted. This allows Workona to display your browser results so they're easier to organize and search.
---
How to organize your schoolwork
Time to complete: 20 minutes
Add each class or project as a workspace. Generally, one workspace will represent one class. If you have a major project — such as a thesis paper, field work, or internship — that gets its own workspace, too. Your list of workspaces will look something like this: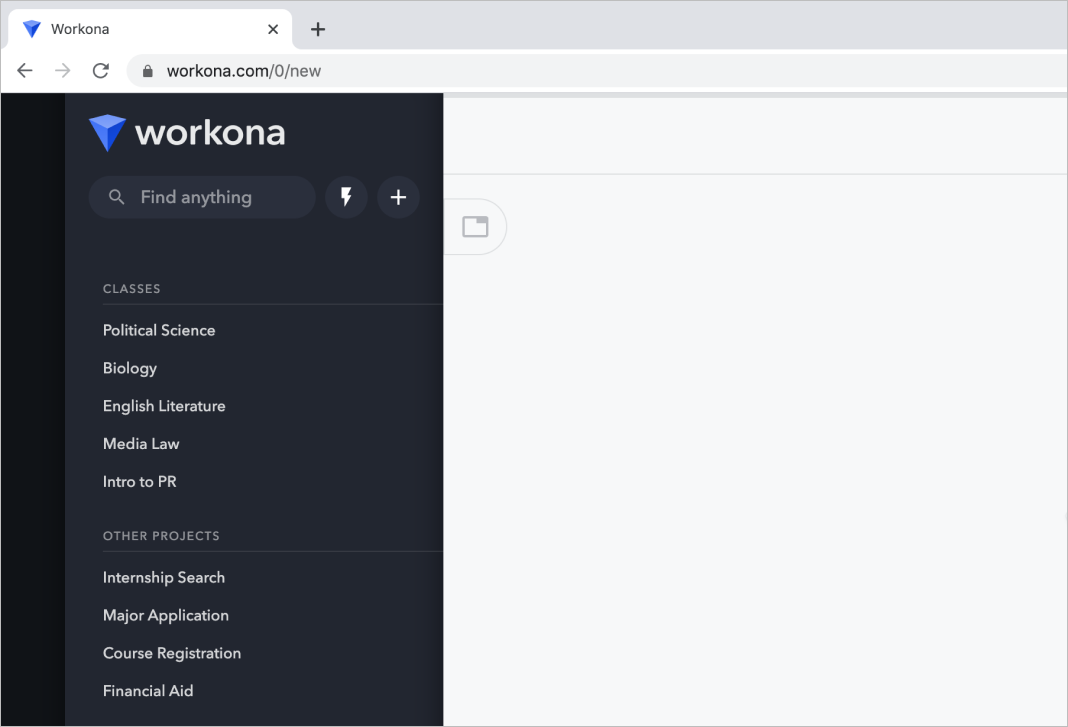 Add your classwork in the relevant workspace by clicking the + button. You'll want to add your class syllabus, upcoming assignments, lecture notes, study materials for tests and quizzes, and any other links you want to keep handy.

You can further organize these resources into blocks. For example, we created blocks for Assignments, Additional Reading, and Research Paper. When you're done organizing, your workspace will look like this: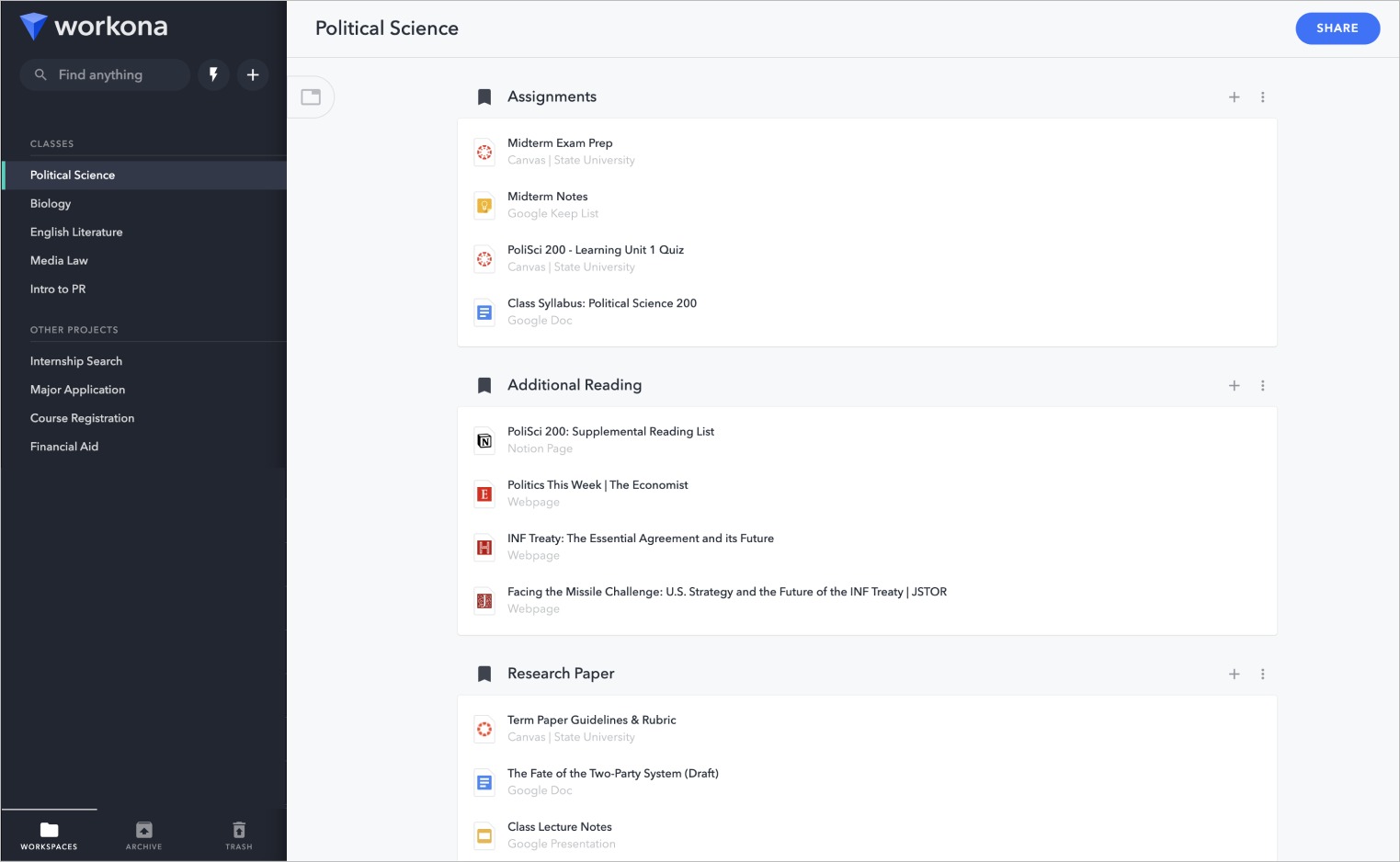 Start browsing in a workspace. You'll notice that tabs are associated with your current workspace. When you switch workspaces, your tabs will also switch. Don't worry — you won't lose your tabs. They're saved automatically so you can pick up where you left off.
At any time, you can find your work by using the keyboard shortcut Opt + F (or Alt + F) or the search bar at the top of the sidebar.

More ways to use Workona for remote schoolwork
Along with organizing your remote classes, you can use Workona to:
Get everyone on the same page for study groups, learning cohorts, or group projects. Simply create a shared workspace for the collaborative project.
Quickly switch between projects or classes without losing your place. Use the shortcut Opt + S (or Alt + S).
Restore tabs in case of emergency. Your tabs are automatically backed up while you work — here's how to restore them.
---
Workona for educators
Students aren't the only ones dealing with tab overload and disorganization.
In addition to teaching, you're doing plenty of other work:
Grading papers
Updating lectures
Conducting your own research
Mentoring, advising, serving on committees…the list goes on
To get these projects organized, you can follow the same process outlined for students. The only difference is that you'll create a workspace for each project instead of each class (unless that's how you prefer to organize your work).
If you change your mind, it's easy to reorganize later.
Need ideas for how to use Workona?
See how others in education are using Workona to get organized, including students with ADHD, teachers, PhD candidates, technology directors, more PhD candidates, and yep, even students on TikTok (check out the Workona shoutouts in the comments).