Review of Session Buddy for Chrome & Firefox
If you're adding a session manager to your workflow, you might be worried about losing work. Session managers can relieve your anxiety by saving your browser tabs and windows. In this article, we review the popular session manager Session Buddy and show you how to use it.
Our verdict: Session Buddy will work if you're looking for a way to quickly save your sessions in Google Chrome. But if you want to organize your tabs as well as suspend them, Session Buddy isn't the best choice. And if you happen to use Firefox, Session Buddy is not supported (but Workona is).
Jump to:
---
Best Session Buddy alternative: Workona
Consider Workona as a Session Buddy alternative — you can use it to manage tabs, organize projects, and bring together all of your work in the cloud. It's available on Google Chrome, Firefox, and Microsoft Edge.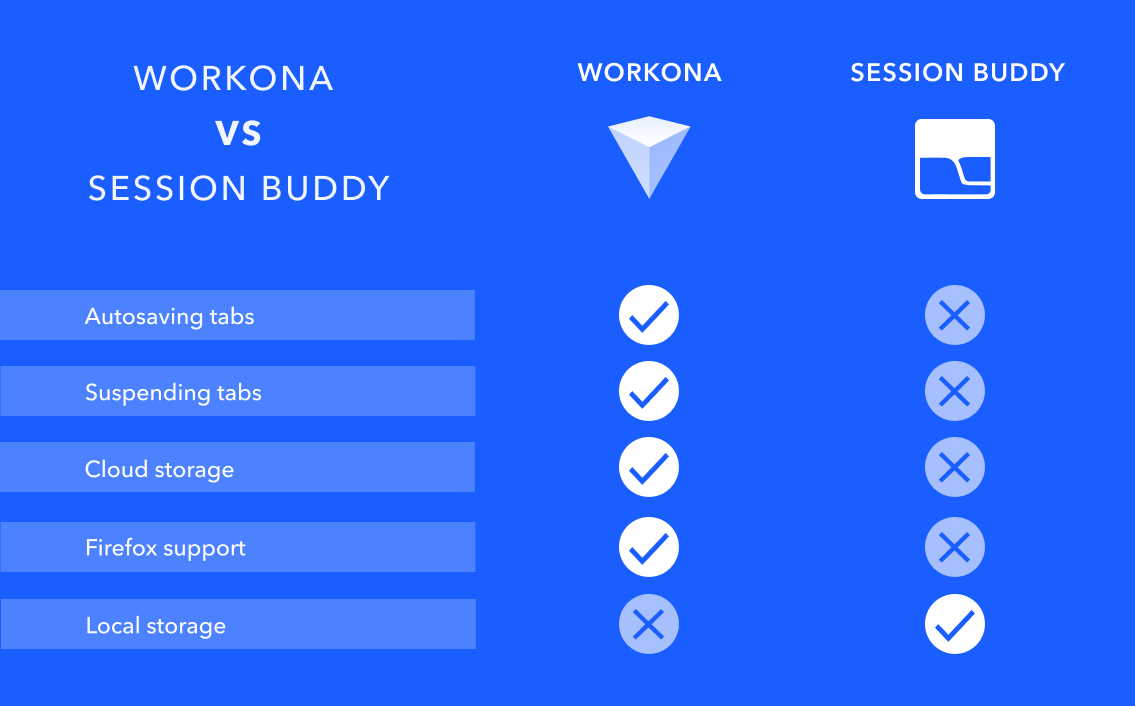 ---
How to use Session Buddy
The way Session Buddy works is pretty simple: If you have three windows open with a few tabs in each, you can save the entire session in Session Buddy and reopen all three windows later on. This helps you quickly clean up your tabs if things are getting out of hand, or if you need to free up memory. When you're ready to restore the session, it can be found in your saved sessions list.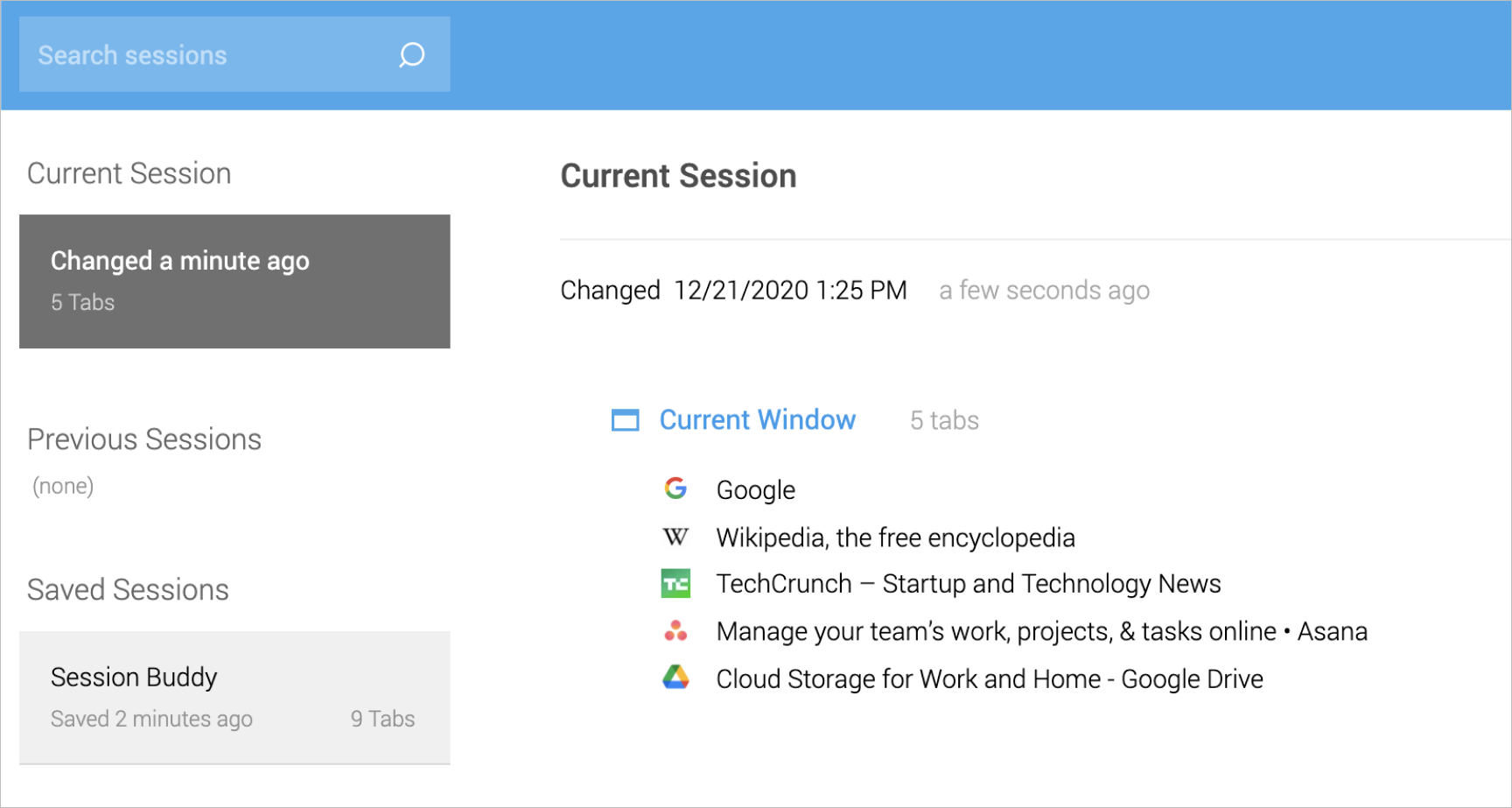 ---
How Session Buddy stores data
Session Buddy only offers a local data storing option (no cloud backup). You can back up manually from the application menu, which creates a file with your saved sessions and settings in Chrome's downloads folder.
The fact that Session Buddy doesn't offer cloud storage is one of its biggest issues. This is especially a problem if:
You're security conscious: Cloud storage features layers of security, including encryption algorithms.
You're trying to access your work on multiple devices: With cloud storage, all you need is an Internet connection to access your data.
Your hardware is stolen or damaged: If your data is backed up locally and you run into hardware problems, it could be disastrous. With cloud storage, everything is backed up and ready to restore.
---
Session Buddy pros
Save open tabs as collections that can be restored later - This is the main function of Session Buddy. If you're looking for a quick save of your sessions, this extension does the job.
Recover your open tabs after a crash - By saving your sessions, you're ensuring that you can restore your tabs in the event of a browser crash. Session Buddy helps with this, albeit without autosaving to the cloud.
Search open tabs and collections to quickly find what you're looking for - Session Buddy offers a search function that helps you find specific tabs by searching for them manually. While this is not an ideal way to locate files, it can help in a pinch.
Session Buddy cons
Only available on Chrome - You'll have to find alternatives if you use other browsers, such as Firefox.
Only supports local storage - Session Buddy does not offer cloud-based storage. This can create problems if you need to restore or access your work on a different device.
CPU issues - Many users report a spike in CPU after installing the extension, which can hurt your device's performance.
---
Workona as a Session Buddy alternative for Chrome and Firefox
There are dozens of extensions that you can use as a Session Buddy alternative. While you're searching, remember that session managers (whether for Firefox or Chrome) are synonymous with tab managers. Either one will save and restore the contents of your browsing session.
---
If you want a full-featured solution that's trusted by industry leaders, Workona is your best choice.
Built for work - Workona has all the features you need for work, like tab management, bookmark management, and team collaboration.
Multi-browser compatibility - Workona is available for Chrome, Firefox, and Microsoft Edge.
Automatic backups & syncing - Workona automatically saves your work to the cloud as you go, so you don't have to worry about lost or unsaved tabs.
No backup limit - There's no limit to how much data autosaves in the cloud as you go along. If you're a heavy tab user, Workona is a better option than Session Buddy.
Suspended tabs keep memory down - Workona includes a tab suspension feature that's designed to keep memory in check. This means your device will run smoothly, even with dozens of open tabs.