Raindrop Bookmark Manager Review
Looking for a way to organize your bookmarks? A good bookmark manager will not only bookmark tabs, but also keep them organized and easy to find. While we've done comprehensive bookmark rankings before, this review will focus on the popular bookmark manager Raindrop.
Our verdict: Raindrop will work well if you just want a simple bookmark manager. But if you work on multiple projects at once, you probably need more organization than that. Workona can help you manage tabs, bookmarks, and your other browser work — all in one place.
---
How to use the Raindrop bookmark manager
You have the option to use Raindrop as a desktop app or as a web app. We experienced issues with the web app during testing, so we recommend using the desktop app. Raindrop is also available as an extension, which provides a toolbar icon that you can use to quickly bookmark your tabs.
The concept of Raindrop is simple: save and organize your bookmarks. But Raindrop goes beyond just bookmarking your tabs. It offers web clipping functionality to help you interact with your bookmarks; for example:
Edit the layout of your bookmarks - You can choose between a headline, card, or board view. You can also assign each bookmark folder an icon from Raindrop's 17 icon sets to personalize them — a nice touch for visual thinkers.
Tag your bookmarks - Raindrop's tagging system allows you to add a tag to any bookmark (those marked with the same tag will be grouped together). Raindrop also automatically suggests certain bookmark tags based on the content of your bookmarked pages. You can use those tags to quickly find your old bookmarks.
Add notes to your bookmarks - You can add notes to each bookmark to provide further context.
If you want to dig deeper into Raindrop, we found this video helpful.
Raindrop's bookmark organizer is available as both an app and an extension on Chrome and Firefox and is available on all mobile platforms.
---
Raindrop pros
Customization - The ability to change the bookmark layout and icons is a favorite feature among Raindrop users.
Tag system - The tagging system provides a simple way of organizing your bookmarks.
Backed up in the cloud - All work saved to Raindrop is backed up in the cloud.
---
Raindrop cons

Raindrop expects payment for something as simple and basic as sub-folders.
Limited free plan - There are many features that aren't offered in the free plan, such as nested collections, Dropbox backup, and priority support.
Software lag - Some users complain about lagging speeds at times.
---
Workona as an alternative to Raindrop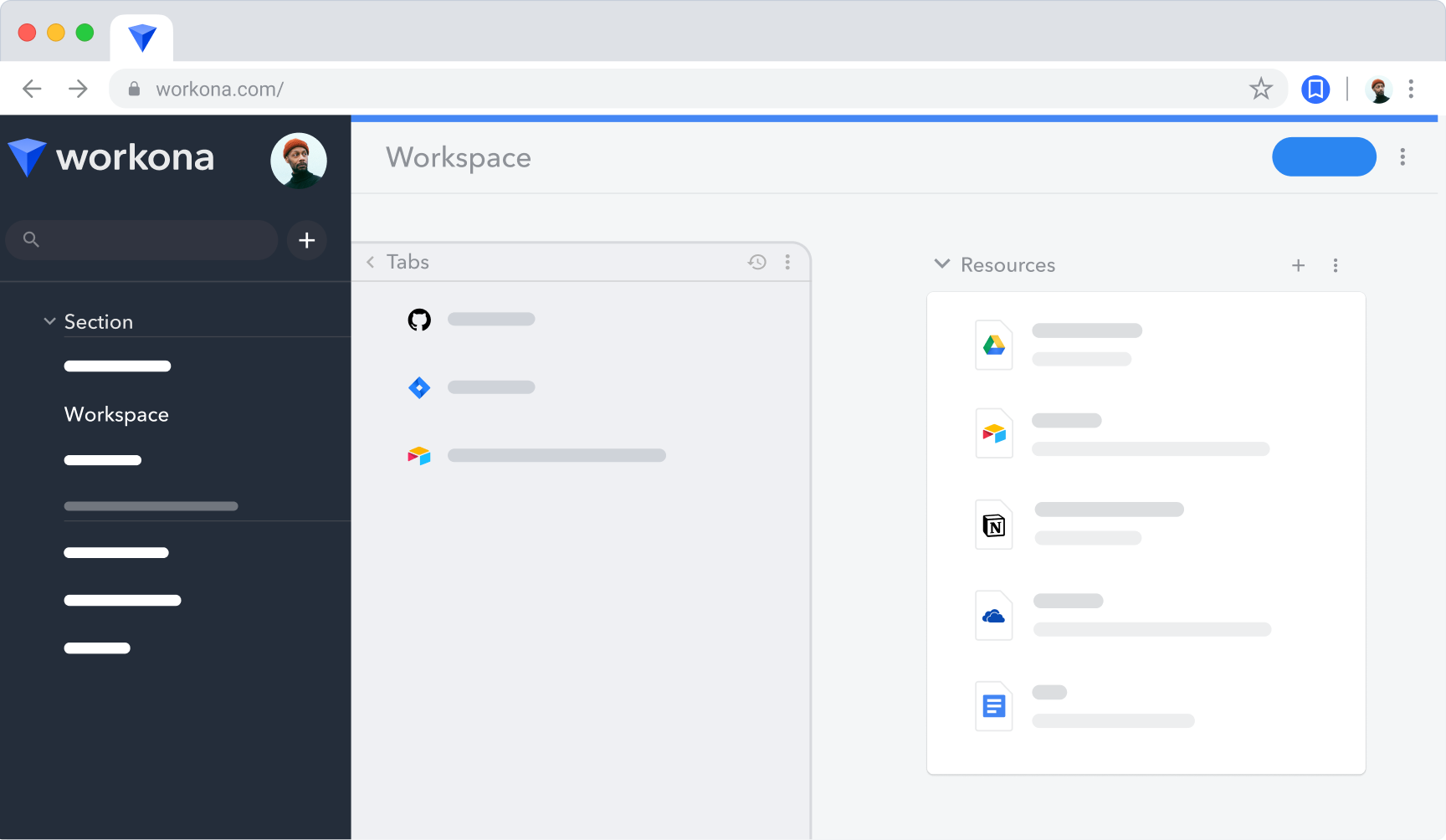 With work moving into the browser, control of your tabs has become just as important as bookmark management. If you're looking for more than a basic bookmark manager, try Workona. Here's what you get:
Tab management - Workona's tab manager allows you to separate your tabs by project, allowing you to keep your work in the browser tidy, no matter how many projects you're juggling.
Task management - Tasks are built into every workspace to help you and your team track to-dos for the project, right alongside the project's tabs and bookmarks. You can use Workona tasks like a checklist, or you can add more context by attaching links and bookmarks to any task.
Workona also offers many of the features that make Raindrop appealing, including:
Bookmark management - Workona bookmarks (we call them resources) let you save and organize your tabs, docs, and files.
Web clipping functionality - Workona's extension lets you save anything with a URL (e.g. web pages, videos, and images) and organize by project. Workona is also the only web clipper designed to play nicely with modern cloud apps.
Cloud backups - Workona periodically backs up your work in the cloud, ensuring you won't lose your data.
Sync between devices - Use multiple devices? Workona syncs work between devices, including bookmarks and open tabs. You can even sync tabs between your desktop computer and iPad.
Want to access all your bookmarks on the go? Now you can get real work done from your iPhone or iPad!