Workflow Automation Statistics & Trends For 2023
Workflow automation is taking over, and it's no wonder why. Modern workflows are full of tedious and repetitive tasks that take time but not necessarily brain power. Automating those workflows can help employees focus on what's most important. The COVID-19 pandemic pushed even more companies toward workflow automation, transforming both their workforce and bottom line.
Check out these 40+ workflow automation statistics & trends to see why automation is the future of work.
Statistics & trends are sourced from the most up-to-date reports available. See the complete list of sources here.
Jump to statistics:
---
Quick recap: What is workflow automation?
What exactly is workflow automation, and how is it different from other productivity trends? According to Gartner's definition, workflow automation (also called workflow management) is when you link together app functions to automate a process. This can happen in the same app or digital tool…
For example, using Hubspot to send Email 1 vs. Email 2 based on which criteria a subscriber meets
…Or across different apps or digital tools.
For example, using Zapier to promote a new blog post on your social media channels and then mark the task as complete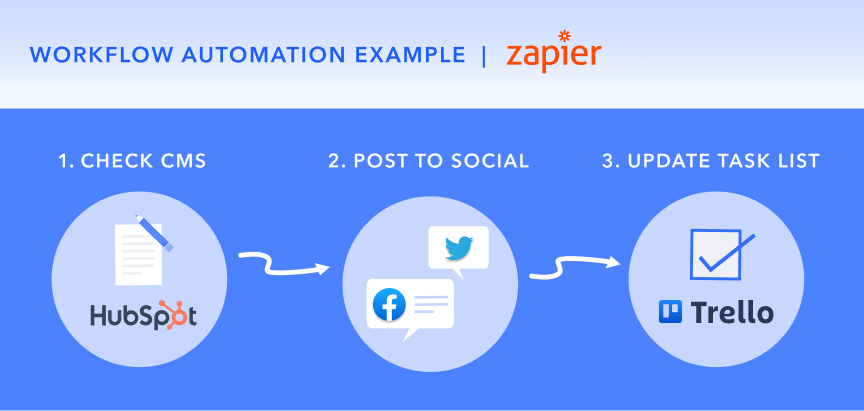 Related: How to boost your multitasking skills
Workflow automation vs. other types of automation
Workflow automation is similar to process automation, task automation, business process automation, marketing automation, etc. But while terms like "business process management" recall expensive system integration projects from the 90s, the term "workflow automation" is used by modern, low-code tools that allow anyone to streamline their digital tasks. Examples of workflow automation tools include:
Zapier - by far the most popular workflow automation app
Make, formerly Integromat - similar functionality to Zapier
Airtable - a visual spreadsheet-meets-database tool with lots of automation options
RPA, or robotic process automation, also tries to reduce the burden of repetitive tasks on employees, but it does so by training bots to handle these tasks as a human would. "Smarter" versions of automation include machine learning (ML), which falls under the broader category of artificial intelligence (AI). These types of automation consume vast amounts of data to learn how to improve automation, ideally without human intervention.
While "AI" is not synonymous with "automation", the two terms are closely linked. But as anyone who's dealt with a customer support chat bot can tell you, AI-driven automation is far from perfect.
---
The rise of workflow automation
What percentage of businesses use automation? What percentage of business processes are automated? These statistics shed some light on how widespread workflow automation is.
31% of surveyed businesses have fully automated at least one function.1
13% of surveyed organizations say they are implementing the practice of intelligent automation at scale (51+ automations); 23% are implementing (11 – 50 automations); 37% are piloting (1 – 10 automations).6
The market for workflow automation and related technologies is growing at 20% per year and is likely to reach $5 billion USD by 2024.7
41% of respondents say they are using automation extensively or across multiple functions.7
Among the many workflow automation options, respondents said they used RPA most heavily (31%) and AI least heavily (18%).7
AI-driven automation is getting more popular: 74% of current users say their organization will increase their AI investment in the next three years.3
57% of respondents say their organizations are at least piloting the automation of processes in one or more business units or functions.2
38% admit their organization have not begun to automate business processes, but nearly half plan to do so within the next year.2
More so than smaller organizations, larger organizations say they're using automation across the business or have fully automated at least one process (40% vs 25%).2
The robotic process automation (RPA) market, valued at $1.4 billion in 2019, is forecast to grow at an annual rate of 40% between 2020 and 2027.9
Of total market revenue for robotic process automation, the on-premise segment accounted for the largest revenue share of over 90% in 2020. However, enterprise companies (the highest adopters of RPA historically) are now shifting to cloud-based infrastructure.9
Digital process automation (DPA) — roughly synonymous with workflow automation — was a $7.8 billion market in 2019 and is forecast to reach $16 billion by 2025.10
---
Benefits & impact of automation
How much does automation increase productivity? Is it good for the economy overall — improving not just company revenue, but also employees' skills?
Despite concerns about losing jobs due to automation, survey respondents claimed that "reducing head count through automation" was the least popular AI benefit in their organization.5
90% of executives expect their automation investments to increase their workforce capacity over the next three years.6
Organizations that have already implemented or scaled automation indicated a 12% workforce capacity increase due to their efforts.6
Surveyed executives in many countries, especially China and the United Kingdom, show a distinct preference for using AI automation to free up workers for higher-value tasks.5
35% of survey respondents say they need more workers skilled in automation, AI, and robotics, due to increased deployment of automation during COVID-19.4
67% of surveyed executives say they have accelerated automation and artificial intelligence during the COVID-19 pandemic.4
Nearly half of executives say their automation adoption has grown moderately during the COVID-19 pandemic.4
83% of US executives and 70% of Indian executives reporting faster adoption of automation during the pandemic, standing out against other countries.4
Companies are increasingly optimistic about automation. In 2020, organizations expected their automation strategies to drive a 15% increase in revenue (in targeted areas), up from 11% in 2019.6
Due to automation, respondents expected an average cost reduction of 24% over the next three years (in targeted areas), up from 22% in 2019.6
Organizations already implementing or scaling automation report a cost reduction of 24%, up from 19% in 2019.6
---
Workflow automation statistics by industry
Finance
Since the COVID-19 outbreak, automation has been most heavily adopted by the financial services and technology sectors, with 88% and 76% of executives reporting increased implementation, respectively.4
Over 50% of banking and financial organization CEOs are focusing on simplifying their products and operations to manage complexity effectively, suggesting a high demand for automation.10
Marketing & sales
Survey respondents have credited AI-driven automation with increasing revenue in pricing, prediction of likelihood to buy, and customer service analytics.3
Global spending on marketing automation tools is predicted to pass $25 billion by 2023 — which amounts to a 14% annual growth rate from 2017.8
55% of global marketers plan to increase spending on overall marketing technology in the next year.8
Supply chain management
Survey respondents have credited AI-driven automation with increasing revenue in sales and demand forecasting, as well as spend analytics.3
---
Risks & barriers for workflow automation
Nearly 66% of AI early adopters agree that their organization would like to cut costs by automating as many jobs as possible.5
36% of respondents rank job cuts from AI-driven automation as a top-three ethical risk.5
According to surveyed executives, the top two barriers to adopting automation at scale are process fragmentations and lack of IT readiness, followed by resistance to change and lack of a clear vision.6
Only 38% of surveyed organization have mature process definitions, standards, and management, which impacts their ability to implement automation.6
Only 37% of organizations report that they have appropriate standards overseen by a dedicated, capable IT function in charge of automation. 6
Nearly half (49%) of respondents said their automation require process change, such as eliminating, simplifying, or standardizing.6
In one study, just 2% of respondents have all their business processes modeled, suggesting that few organizations are ready for automation at scale.10
60% of respondents from the same survey were working on one or more process transformation projects, with 36% working on ten or more process improvement projects.10
A high number of organizations don't know how long it will take to see results from their automation efforts: 50% of organizations in the pilot phase have not estimated the payback period, and 36% of organizations implementing and scaling automation have also not calculated payback.6
Only 26% of respondents stated that their organizations were "ready or very ready" to address the impact of AI and related workflow automation technologies.7
Just 6% of respondents agreed their organizations were "very ready" to address automation & AI. Considering all the changes that would be necessary — scaling up IT functions, reskilling large parts of the workforce, and integrating human behavior with automation — this low percentage is understandable.7
---
About Workona
If your organization is ready to improve its processes, try Workona. It brings essential organization to teams by helping them organize everything for a project in one place: cloud docs, links, notes & tasks. With over one million workspaces created, Workona is transforming how modern work is done.

One of the best products to improve my workflow
"Honestly, I think my brain (and computer) would pop without Workona. This has been one of the best products to improve my workflow that I've adopted in years."
---
Sources