How to Collaborate on Remote Team Projects with the Workona App for Zoom
You're probably getting a lot of face time with your team on Zoom — but that doesn't mean you're collaborating well. If your team Zoom meetings tend to feature the words, "I can't find that doc", "Can you message it to me?", or the ever-popular "Who's writing this down?", you should try the Workona app for Zoom.
The Workona app for Zoom is like a virtual conference room for remote meetings. But instead of handouts on the conference table or presentations via the projector, your project work is all in one place: the workspace.
Workspaces lets your team collaborate on:
Cloud docs & important links
Meeting notes
Action items
---
The problem with remote project meetings
You probably rely heavily on cloud apps to get work done. On average, knowledge workers switch between 10 apps 25 times per day, according to Asana.
While these apps are intuitive, the same can't be said for using them in a remote meeting. Team members may seem distracted as they pull together the project resources they need. Eventually, all the work is tracked down and you can get to the point of the meeting…
…until it's interrupted by people not knowing where to find project details or wondering who's following up on tasks. These slowdowns are frustrating for any team, especially high-performing ones.
The Workona app for Zoom is the solution. Add it to Zoom to make your remote team meetings more organized, focused, and clear:
Organized - You only have to organize project docs once, and they'll be at your team's fingertips
Focused - With the workspace as a shared work environment, there's less confusion and cross-talk
Clear - Track your progress with meeting notes and action items built into the workspace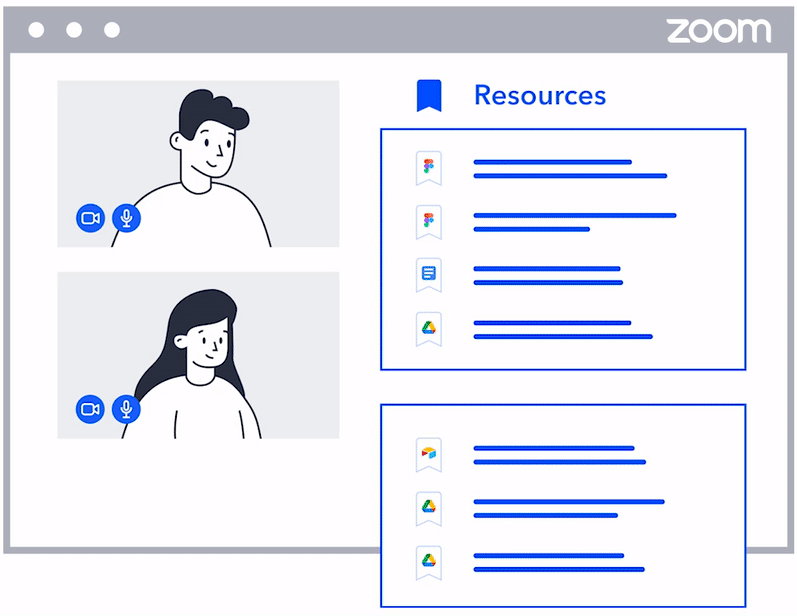 It's a game changer for remote collaboration. With everyone looking at the same docs, notes, and tasks, working sessions run faster and smoother. Workspace collaborators can instantly see each others' updates, so it's easy to confirm who's doing what before you sign off.
---
3 ways the Workona app for Zoom improves remote project management
1. Feel more prepared for the Zoom meeting
Before the meeting begins, you can open the Workona app in your Zoom account. You'll be guided to create a workspace to share all the cloud docs, meeting notes, and action items for your team project.
Workspaces make project work easy to find, so everyone feels prepared for the meeting.
2. Streamline the Zoom meeting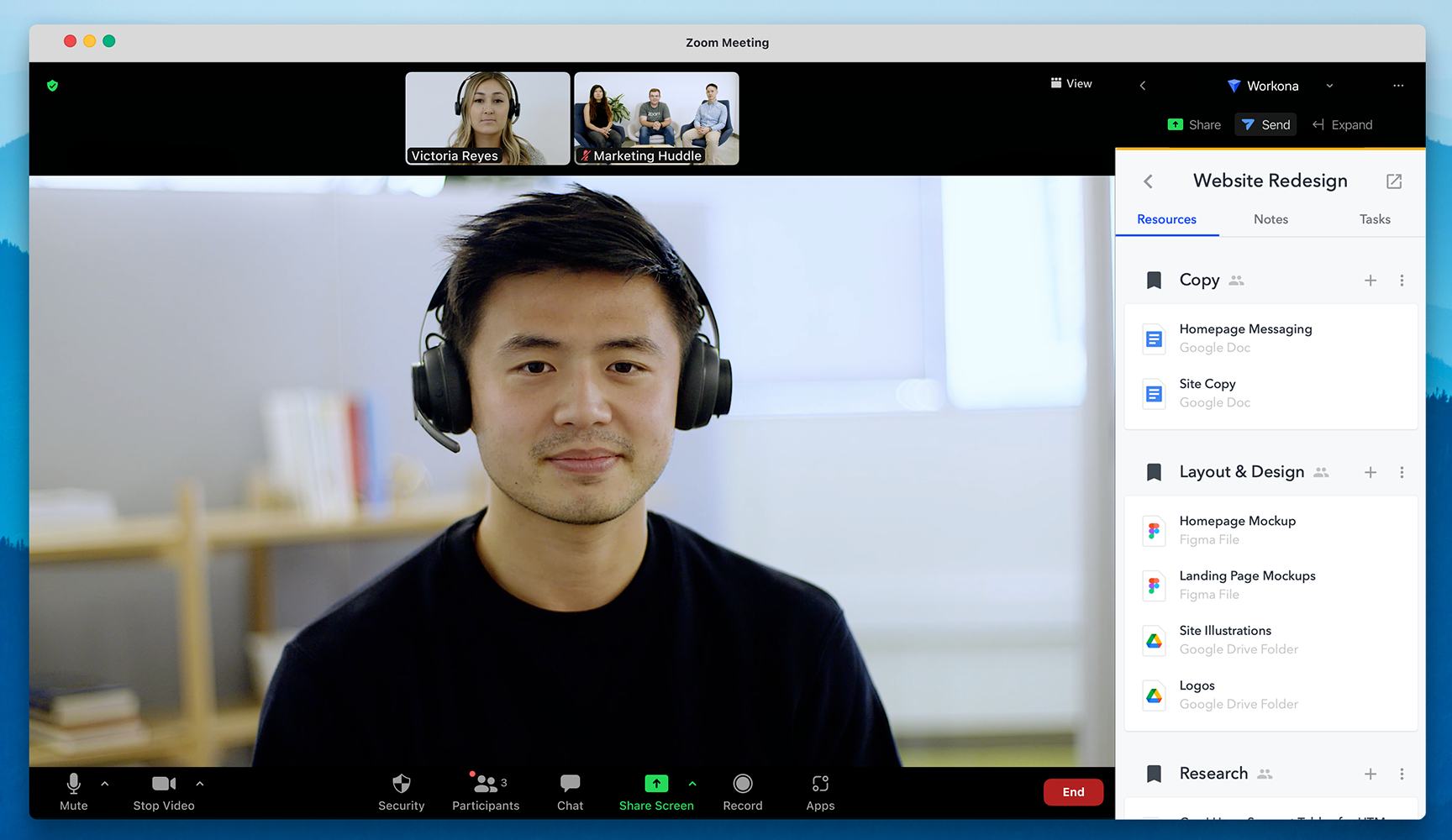 You can also open the Workona app directly in a Zoom meeting. This allows you to:
Instantly access cloud docs, link, notes, and tasks for the project
Share your workspace to start collaborating in real time
Keep the project up-to-date before leaving the meeting
Workspaces let your team focus on the meeting itself, instead of tracking down docs and links.
3. Improve follow-through after the Zoom meeting
According to Slack's guide to virtual meetings, a remote meeting is only successful when participants walk away with clear objectives. They should know:
Deliverables and next steps
Who's responsible for following up on each item or task
When those deliverables are due
When the next meeting or check-in will be
The Workona app for Zoom helps you check all the boxes. Assign to-dos and due dates right in the meeting to make sure everyone is on the same page. When a deadline approaches, assignees will get an automatic reminder in their email inbox.
If there are any question, team members can always access the workspace at workona.com/0/.
Workspaces provide the context your team project needs — no guesswork required.
---
Which projects could use Workona for Zoom collaboration?
We recommend the Workona app for Zoom to any modern team, especially ones collaborating on creative projects (e.g., website redesign, marketing campaign), client projects (e.g., strategy consulting, branding, PR), or ongoing multi-phase projects (e.g., customer research, SEO).
Bottom line: If your team works remotely, the Workona app for Zoom is a great project collaboration tool for your Zoom virtual meetings.