6 of the Best Chrome Extensions for Productivity
There are nearly 200,000 browser extensions for Chrome. So how do you narrow it down to the best Chrome extensions that will supercharge your productivity?
Let's ask Chrome itself. The Chrome Web Store named Workona (among 11 other extensions) as one of their favorite Chrome extensions of 2022, based on:
extension quality
end-to-end user experience
user delight, relevance and innovation
A quick look shows that users do indeed love Workona Tab Manager — it boasts a 5-star rating with 165,000+ Chrome Web Store installs. But not everyone knows about Workona's other extensions for tab suspension and task management. We recommend trying all three to see if this "productivity suite" is the right fit for your workflow.
Get reviews from Reddit users
We compiled Reddit's most-recommended Chrome extensions, which you can
check out here →
---
Our picks for the best productivity Chrome extensions
Consider trying Workona's extensions if…
Tab Manager: You juggle multiple projects at once
Tasks: Your work tasks primarily take place in cloud apps & browser tabs
Tab Suspender: You keep a lot of browser tabs open
Plus, try these other Chrome extensions:
---
1. Organize tabs & cloud docs - Workona Tab Manager
We set out to make the world's best tab manager, and the Workona Tab Manager is the result. If you work in cloud apps all day, this is the best Chrome extension for productivity gains. Use it to:
Organize all your project work in one place: tabs, cloud docs, links, notes & tasks
Switch context when you need to; focus deeply at all other times
Autosave, sync, & back up tabs, so you never have to worry about losing work
Here's what users have to say:
"One of the most important software components on my computer." "The best extension I stumbled on this year." "The first app to actually work with my brain…it's a game-changer!"
---
2. Speed up your browser - Workona Tab Suspender
Browser tabs can take up significant memory on your device. The solution? Workona Tab Suspender, which pauses memory-hogging tabs so they don't take up any memory. To use a suspended tab, click on it as you normally would.
If your computer is running slowly, try installing our tab suspender extension as a first step. It's the smart way to free up memory usage, since it doesn't affect your browsing experience other than speeding it up.
---
3. Track to-dos for projects - Workona Tasks
If you're already using Workona, it's easy to add project-specific tasks in a workspace. But did you know you can add & manage tasks from anywhere in your browser? The Workona Tasks extension lets you turn any tab or email into a to-do.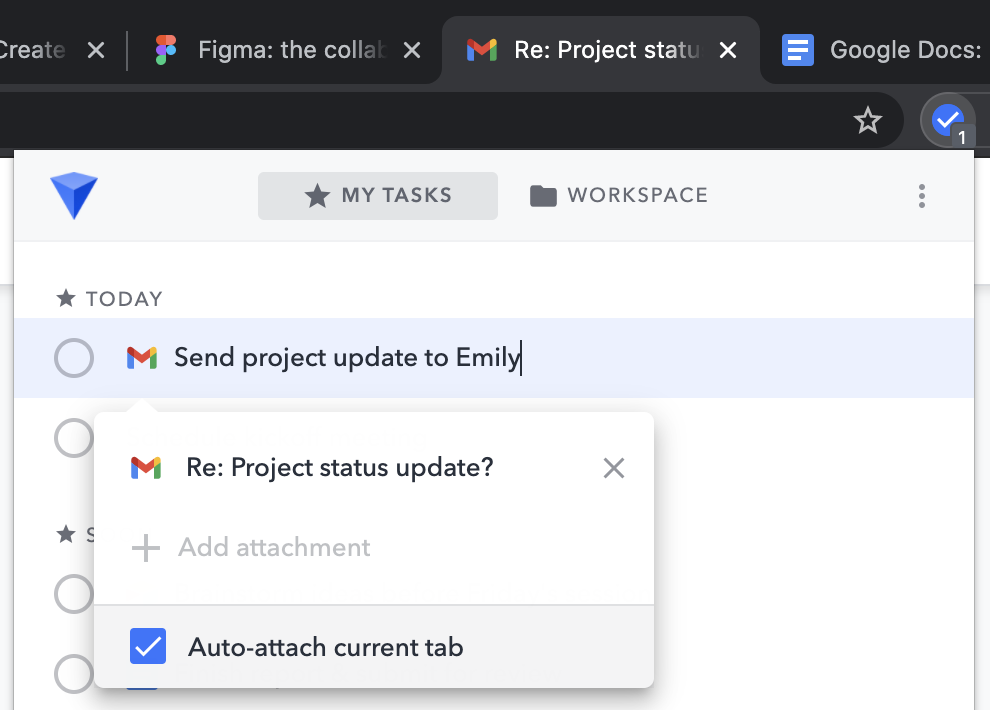 With the Tasks button pinned to your browser bar, you can manage to-dos without interrupting your workflow:
Click the extension button
Log your task (or mark it as done)
Keep on moving!
It's your secret weapon to crushing deadlines and getting things done, no matter what's on your plate.
---
4. Schedule emails & meetings - Boomerang for Gmail
If you have an active email inbox, the Boomerang extension for Gmail will help you schedule messages to send later, get reminders to follow up, and schedule meetings right in the email itself. There's even an AI assistant, Respondable, to help you write more effective emails based on data.
---
5. Connect your CRM to email - Hubspot Sales
A favorite of the Workona team, the Hubspot extension for Chrome connects to Gmail to help you track opens & clicks, as well as log messages to your CRM from Gmail. It's the time-efficient way to keep your CRM up to date and follow up with valuable sales leads. One of the best features is one-click email templates, which you can easily share with team members.
---
6. Write faster anywhere - Compose AI
Do you struggle to find the right words sometimes? Compose AI was named a favorite Chrome extension of 2022 due to its core feature of autocomplete. Using AI, it helps you finish sentences with a single click. You can also use Compose AI to generate full emails from just a few words, as well as rephrase sentences to sound better.

---
Have you tried one of these Chrome extensions to improve your productivity yet?