Review of the Pocket App for Chrome & Best Alternatives in 2022
You want to be well read. Who doesn't? So you eagerly bookmark interesting articles (or keep the browser tab open), but you never get around to them because you're too busy.
If that sounds familiar, you need a bookmark app. We discuss our favorite bookmark managers here, but this article will focus on Pocket. We break down what we like about Pocket, what's not so great, and exactly how the app works.
Our verdict: While Pocket is a good choice for saving articles and stories, its limited scope makes it unsuitable as a true productivity app. If Pocket isn't the right fit for you, read on for a few Pocket alternatives—like Workona—that can save you time and frustration in the browser.
Jump to:
---
Pocket review: pros & cons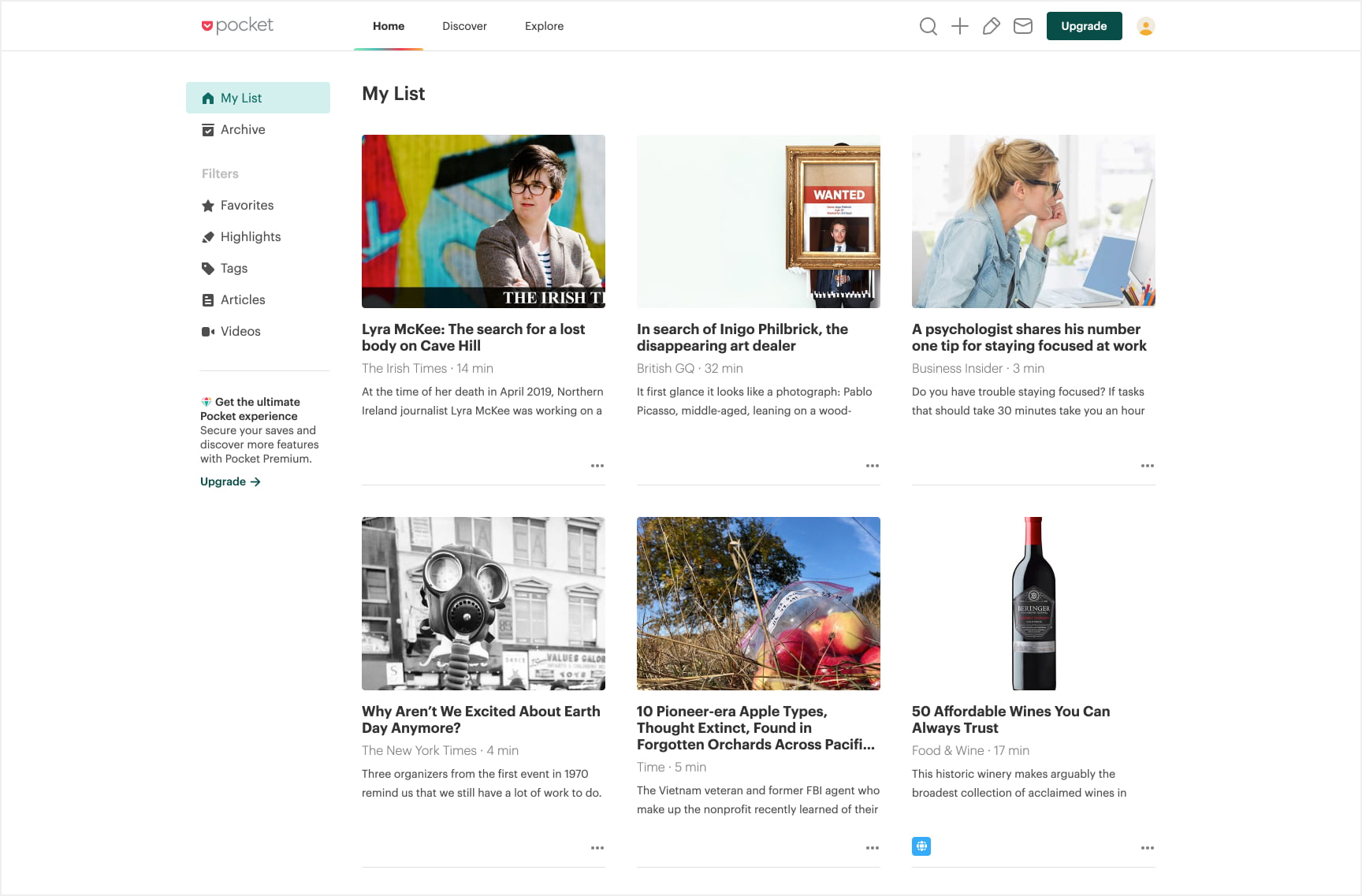 What we like about Pocket
Multiple ways to save content, including a keyboard shortcut.
Offline access - Unlike many other bookmark managers, Pocket allows you to access your content offline.
The ability to easily discover related content by scrolling through a personalized feed.
Tag creation - Pocket lets you add tags to order, sort, and find stories in the app. Just create a tag and assign them as you go.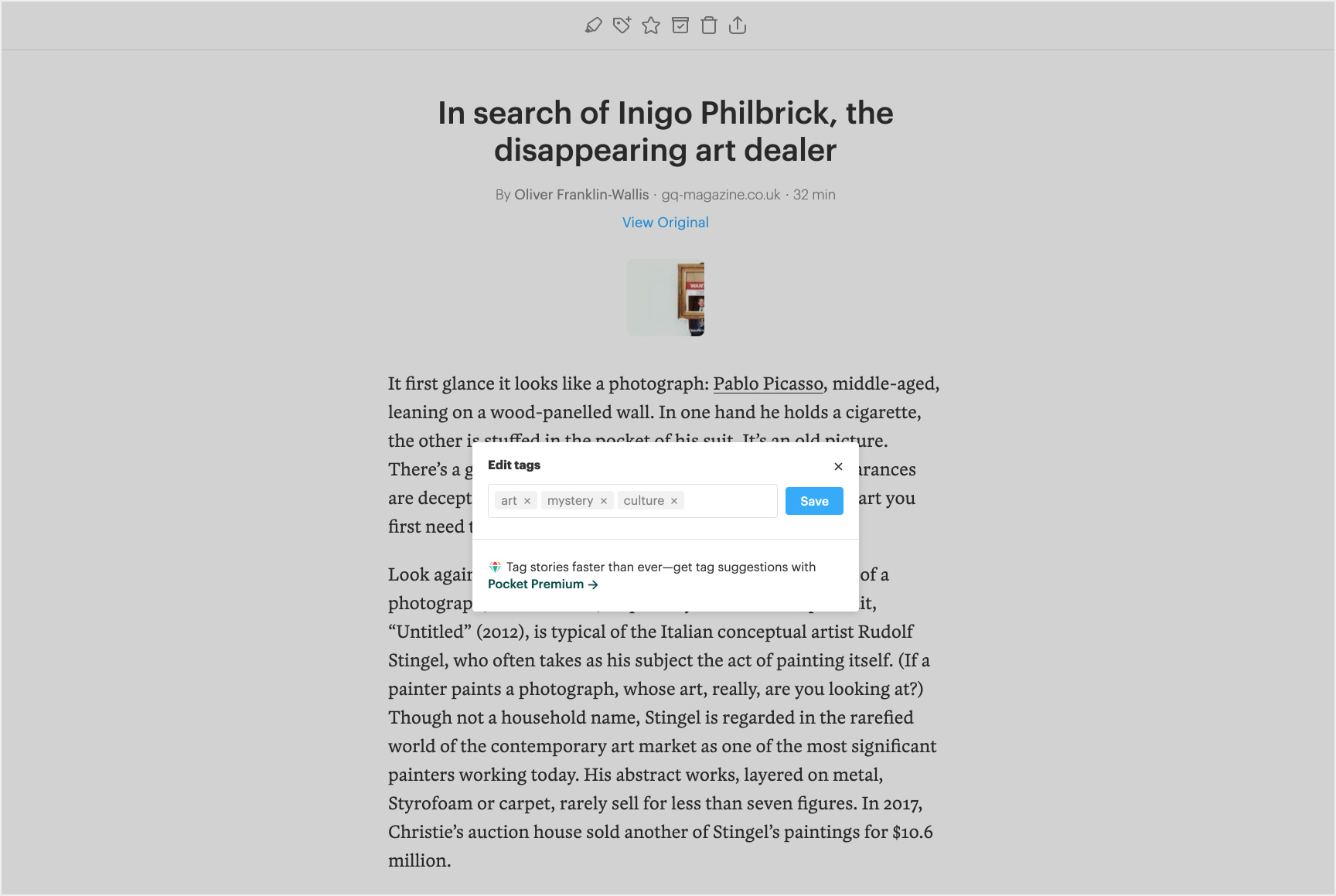 What we don't like about Pocket
Scope is limited - Pocket saves items to read later—that's it. It doesn't help with other browser-related problems, like managing tabs or organizing your bookmarks by project.
Problems with images - While reading articles inside the app, images occasionally don't display properly. This normally occurs with data-heavy images, such as infographics or charts.
In-app article preview can distort the original article's formatting. This only happens occasionally, but it's distracting.
Our verdict
Pocket works well as a save it for later app. If you are strictly looking for this functionality, then you'll be pleased. However, if you're looking for a bookmarking app that has more powerful features, Pocket falls short. It lacks features like suspending tabs, managing tabs, and collaboration (for example, if your team wants to add bookmarks for a shared project or knowledge base).
And that brings us to an important point: Pocket isn't a place to get work done. Instead, it feels like a place to escape from work. If you're looking for an app you can use throughout the workday, read on for some alternative options. If you're on team Pocket, we'll show you how the app actually works below.
---
How Pocket works
Saving content
So, how do you save content with Pocket? After all, saving in Pocket is the name of the game. Well, there are four ways, all of them very easy:
Select the Pocket extension button in the toolbar on the article page
Right-click a link and select "Save to Pocket"
Use the keyboard shortcut: Ctrl+Shift+P (Windows) or Command+Shift+P (Mac)
Select the + icon in the upper right of Pocket, and enter the URL of the page you'd like to save.
Finding your content
After downloading Pocket and saving some stories, you're probably eager to dive into them. You can find your content on the "My List" section. You will also notice the following sections:
Archived - All archived stories are kept here.
Highlights - You can highlight multiple stories to carry out bulk actions.
Tags - Adding tags to content adds a layer of organization to your Pocket experience. Once you create a tag, you will be able to access them in this section.
Articles - All of your articles are visible here.
Video - All saved videos can be found here.
If you can't help but share the stories you love, Pocket lets you do just that. Any story can easily be shared via Facebook, Twitter, Reddit, Tumblr, Buffer, or sent directly to a friend.
Exploring new content and finding inspiration
What's a reading app without a personalized feed? As you'd expect, Pocket has two built-in features to help you find new content. First up is the Discover tab, which features stories recommended for you by Pocket. In Pocket's own words:
"These stories come from two places: Pocket's recommendations that are sourced from the millions of items that are being saved to Pocket every day, and items recommended by the people you decide to follow on Pocket."
While we found the accuracy of the recommendations to be hit or miss—more so than something like Instagram—it can become a rather addicting place to scroll through stories that catch your eye. Just make sure to wait until the workday is over before falling down the rabbit hole!
The other way to find content on Pocket is the Explore Tab. It's a fun way to see what other users are saving, and you don't even need a Pocket account to try it out.
---
Best Pocket alternatives
Bookmarks and tab management in one - Workona
Workona is a bookmark manager that also helps you manage tabs, organize projects, and bring together all of your work in the cloud. You can group your bookmarks into projects (called workspaces) and quickly share them with teammates. Organizing bookmarks into workspaces makes it easy to juggle several projects at once, whether you're working on your own or as part of a larger team. Workona has a 4.8 rating on the Chrome Web Store.
Workona is available for:
Traditional bookmark manager - Raindrop
Raindrop.io allows you to organize your bookmarks in several different layouts, including headlines, cards, and boards, making it a better option than Pocket if you're looking for a customizable experience. It also offers a full text search, which you can use to search through the entire content of every bookmark and PDF you've saved, making it handy for research. Both Chrome and Firefox are compatible with Raindrop. Raindrop has a 4.1 rating on the Chrome Web Store.
A different read it later app - Instapaper
Looking for a read it later app that's not Pocket? Instapaper will do the job. One advantage that Instapaper has over Pocket is its unique speed reading feature, which highlights a single word at a time for a more focused and efficient reading experience. However, Instapaper's free version is extremely limited; for example, the search function is behind a paywall. Take a look at this article from Zapier for a detailed breakdown of how Instapaper compares to Pocket. Instapaper has a 3.9 rating on the Chrome Web Store.