How to Build Your Self-Managed Team
If you're about to join a self-managed team, you're not alone. Self-managed teams are becoming increasingly common — almost 80 percent of Fortune 1000 companies use some sort of self-managed team structure.
This structure can lead to increased performance and morale, but can easily go wrong if company leadership isn't 100% behind you. In this article, you'll find tips & examples to help everyone get on board.
Jump to:
---
What is a self-managed team?
It's normal to wonder what exactly constitutes a self-managed team. There are several interpretations, but we like this one:

When a group of employees are collectively responsible for the projects they work on, and specific employees — who are not necessarily managers — take leadership over tasks and initiatives based on their expertise, rather than hierarchy or title.
Of course, self-management is not for everyone. Some just don't have the sense of responsibility and discipline to work effectively without supervision. Those who enjoy working in self-managed teams usually exhibit these characteristics:
Natural leaders - Those with a leadership mentality work well in self-managed teams because they instinctively take ownership of their work without being prodded. Their sense of responsibility also tends to rub off on team members.
Self-starters - If you're a natural self-starter, then it's in your nature to start and finish projects. These workers don't need a manager to direct them every step of the way.
Risk-takers - One of the biggest challenges in working in a self-managed team is the possibility of doing things wrong. The approach is up to you, and with that comes the responsibility of being wrong. So, consider stacking your self-managed team with risk-takers.
---
Examples of self-managed teams & roles
Types of jobs that often lend themselves to self-management include:
Agency work - Teams in this space work one on one with clients. As a result, their knowledge of their clients is what dictates success, rather than input from management.
Customer success - Like client-facing teams, customer success teams work directly with customers, and as a result have all the understanding they need to self-manage.
Customer support - Support workers often have a better understanding of the priorities than potential supervisors, being in the trenches day in and day out. Accomplished support teams can thrive under self-management.
Marketing - Great marketers put out new ideas that their audience haven't seen before. Self-directed marketing teams are in a good position to do this, since they aren't held back by risk-averse leadership.
---
Need more examples? Let's go a little deeper with some case studies of self-managed teams.
GE/Durham
Industry: Aviation/Manufacturing
Approach: Seemingly inspired by self-determination theory, GE/Durham is a jet engine factory that cuts out middle management — at one point, plant manager Paula Sims had 170 people reporting directly to her. With just one classification of worker, GE/Durham is truly a flat organization. Workers must be highly skilled, particularly in non-technical skills like work ethic and coachability. And they're all expected to lead, as technician Duane Williams explained:
"We had to come up with a schedule. We had the chance to order tools, tool carts, and so on. We had to figure out how the assembly line to make the engine should flow. We were put on councils for every part of the business. I was never valued that much as an employee in my life…but here, I couldn't wait to get to work every day."
Learn more: Reach Charles Fisher's in-depth report in Fast Company →
---
Riot Games
Industry: Software/Game Development
Approach: After reading the book Turn the Ship Around!, former CTO Mike Seavers decided to cut himself out of the decision-making process. He coached his team to start saying, "I intend to do this…" instead of asking managers for permission.
Seaver's decentralized approach also applied to formal planning:
"Every time we sat down to go through the past quarter and plan the next one at Riot Games, we came up with a leadership theme for the quarter. For example, we weren't going to make decisions for others for a month. This put all of us on the same page, and we got everyone to think about it and talk about it. When my direct report came to me asking, 'Can I do this thing?', it was easy for me to say, 'I'm not going to answer that question. You know the theme of the quarter, so you need to at least think it through before I give you an opinion.'"
Learn more: Read the full case study on how to run a self-managed software development team →
---
John Lewis Partnership
Industry: Retail/Grocery
Approach: Author Marjorie Kelly chronicles sustainable business ownership models. One of her most impressive examples is the John Lewis Partnership, the largest department store chain in the UK.
The company shares 40 – 60% of profits annually with employees, which in a typical year was nine weeks of pay, according to Kelly. Employees own the company 100%, and have a real say in its direction.
"The John Lewis Partnership's ownership design keeps it rooted in, and accountable to, its community of employees.I ran into a mid-level manager who serves on the Partnership Council and I asked him, 'What will you be talking about at your upcoming meeting?' I wanted to see if this was anything real going on in this council. He said, 'Well we're going to be talking about improving the employee pension plan.' They wanted to shorten the eligibility from five years to three years – and I found out later that that they did."
Learn more: Read Marjorie Kelly's book Owning Our Future: The Emerging Ownership Revolution→
---
How to build a software stack for a self-managed team
So how do you equip your team with tools & systems in a self-managed way? These principles can help.
1. Keep it flexible
Workers on your team are probably comfortable with a wide range of tools. Unless there's a security risk, don't try to pigeon-hole them into using tools they hate.
Consider following GE/Durham's example: Form a council to educate team members on selection criteria (e.g. staying within budget) and how it fits into the big picture.
2. Ask for recommendations
Instead of starting with a Google search, go straight to the experts: your team members. Find out what they recommend and why. (If they're coming up short, head to G2 or Capterra and look for the top-ranked tools in the appropriate software category.)
3. Run rapid tests
Instead of prolonging the research stage, test your top picks as soon as possible. Your team only needs to test new tools or systems for a short period of time —say, three weeks — to decide if it's a go.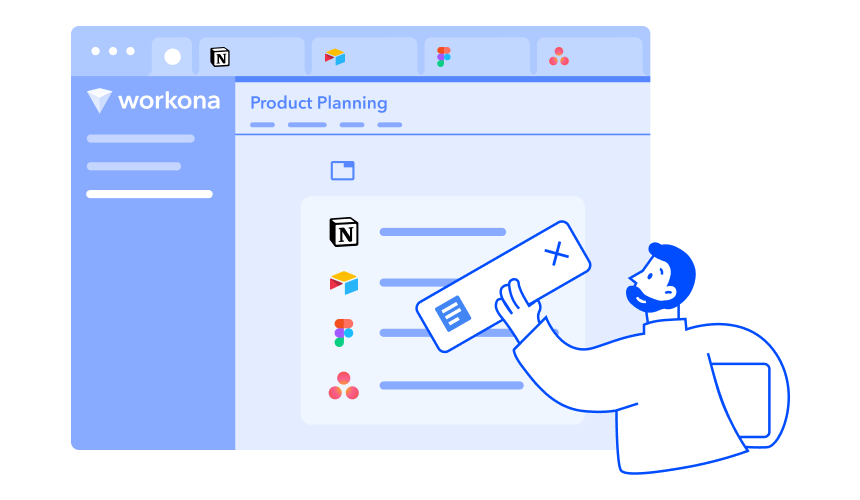 Bring it all together with Workona
Every self-managed team needs a simple way to access their everyday tools. That's where Workona comes in.
Team members can organize all the links, cloud docs, & files for a project in one place. It's the best way to make sure everyone on your self-managed team can find what they need, no matter what project they're working on.